I've always loved the collective of voices we have here at Nextbop. This international group of talents has always been a sort of inspiration to me, shining a light on the things that I don't know. While we usually share in one another's knowledge in a jazz sense, that has always been but a microcosm of our interests. It is when we look at the rest of our taste that our diversity really gets to stand out.
You may notice that there are a lot of ties in these lists. That's due to the size of our little family. Everyone's vote is equal and that really gave a lot of releases the chance to get some coverage here. It'll all come together the higher up the list we'll go. It's been one hell of a ride putting these lists together. I speak for everyone on our staff here in saying that I really hope you enjoy them, remember what it is that you loved about the music of 2012, and maybe learn a little about the things you missed. I certainly have.
–Anthony Dean-Harris
Editor-in-Chief
The 2012 Season of Lists
Think of it like the music journalists' year-end word liquidation sale… but with no money
The Best Non-Jazz Albums of 2012: #25*-11
The Best Jazz Albums of 2012: #25*-11
The Best Non-Jazz Albums of 2012: #10*-1
The Best Jazz Albums of 2012: #10*-1
23 tie) fun. – Some Nights (Fueled By Ramen)

If you didn't hear of pop group fun. this year, then you've been living under a rock. fun.'s sophomore album, "Some Nights", featuring radio hit "We Are Young" along with the album's title track, this album will have you attempting to sing the words before you even learn them. This album is the soundtrack for the person on the move.
Some Nights

–Jared Bailey
23 tie) Talib Kweli & Z-Trip – Attack the Block (Self-Released)

In this mixtape, Talib Kweli doesn't approach hip hop in the same way as Odd Future, also mentioned on this list, does. The Odd Future project is one that revolutionizes hip hop. Talib Kweli is too cool to care for this sort of ambition. He's here to spit some smooth rhymes to some heavy beats. The result is absolutely cool.
Talib Kweli has always been a clever rapper. The image we get from his flow is one in which he thinks on his feet. In fact, it's just in that sense that he differentiates himself from the rest of hip hop. On the mic, he knows what he's doing. This clever attitude is presented with force on Attack the Block. The result is a great mixtape, loads of fun.
Attack the Block, full album

–Marc Antunes
23 tie) Jay-Z – Live in Brooklyn (Warner Music)

A project created to commemorate Jay-Z's eight shows at Brooklyn's Barclays Center, Live in Brooklyn is Jigga's first live album since Unplugged. Though he performs no new songs, Jay executes each song in the true excellence that we are used to from his live shows. If you've never experienced Jay-Z live, here's a great place to start.
Dead Presidents/Can I Live?

–Jared Bailey
23 tie) Dirty Projectors – Speak Lo Magellan (Domino)

Swing Lo Magellan was an altogether satisfying album through and through. Leader Dave Longstreth composed songs that sound far too pleasant for mania and loss to be their main subjects. "Unto Caesar" is one of the most fun songs released this year, a singalong song with words a tad too outside the box for actually singing along. Whether they go for the campy or the wistful, this group still cooks with gasoline.
Hi Custodian

–Anthony Dean-Harris
19 tie) Tiger Speak – Tiger Speak (Self-Released)

Tiger Speak is your new favorite band that you haven't heard of yet. Featuring trumpeter/MC Ryan Easter on lead vocals, Tiger Speak's self titled debut is the perfect combination of jazz and hip hop. This is the first album I've ever heard where I can tell that Tiger Speak is the band's band, not just Ryan Easter's. You can feel the joint effort of every song in every track. From Easter's lyrical savagery in foreign time meters to the horn section's tasty accented lines, Tiger Speak is the new group you need to check out, now. No seriously, now.
–Jared Bailey
19 tie) Norah Jones – Broken Little Hearts (Blue Note)

Every now and then there are collaborations that seem impossible on paper, but in reality, are musical kismet. Norah Jones and Danger Mouse perfectly fit such a profile. The two have worked together in the past, and it's with good reason that they've reunited for this project. Little Broken Hearts is the ultimate break-up album with none of the cliché. Jones shows off her dark side, and it sounds so good on her. Pensive, sparse and entirely hypnotic, it reaffirms that you can't put Jones in any artistic box. She's steadily proving why with each project, and most personally it seems, with this one.
Miriam

–Angelika Beener
19 tie) Hiatus Kaiyote – Tawk Tomahawk (Self-Released)

Some of the best, most soulful funky music released this year came from a little group out of Melbourne, Australia. Vocalist Nai Palm's astounding lyricism hearkens some of the best jazz singing around and she's mad decent on guitar. Also, for some of the best bass playing I may have heard all year in any genre, Paul Bender deserves major props. This is definitely a group that should be on your radar.
–Anthony Dean-Harris
19 tie) Bloc Party- Four (Frenchkiss)

Prior to 2008, Bloc Party was something close to the epitome of so-called indie music. The music was quick, upbeat, filled with clever guitar riffs and catchy vocals. In 2008, Bloc Party went in a new direction, musically, with the release of Intimacy. The single "Mercury" demonstrates perfectly what I mean: there was a new element introduced. The feel in "Mercury" is more akin to electro, and there was clearly more sharp energy in a track like that than there had been in previous albums. The band was moving forward. I was excited, and I wanted to hear more of it.
Only four years later did Bloc Party release a new album. Four, released in August, perfectly satisfied my high expectations. Amazingly, the momentum was apparently not lost. In fact, there is more to this album than just energy. The album has many layers, like an onion. It goes from rock anthems, "Kettling", to smooth songs, "Day Four", to the classic indie music we all love to hear from Bloc Party, "Octopus". Overall, the quality of the music was worth the wait. The fact that high expectation were met to such an extent is enough to put this album on the top ten of 2012.
Octopus

–Marc Antunes
17 tie) BJ The Chicago Kid – Pineapple Now-Laters (M.A.F.E.)

Let's complete the trifecta. Even if you've heard of Dom Kennedy or Tyler, the Creator, both of whom appear on this record, you probably haven't heard BJ The Chicago Kid's name too often. That's too bad, because Pineapple Now-Laters is one of the best R&B albums to come along in quite a while. Like Frank Ocean's channelORANGE, the disc is propelled by the silky voice of its creator (although BJ's voice is more reminiscent of D'Angelo), but Now-Laters is more wide-ranging in its ambitions and its influences. It results in a slightly less focused, but often more interesting disc. Highlights include the groove driven track "Sex X Money X Sneakers" and the subtle "Big Payback," but the real beauty of the disc is exemplified by the amazing "His Pain II." A must-hear.
Sex X Money X Sneakers

–Jonathan Wertheim
17 tie) Abiah – Life As a Ballad (Madoh)

There's a chance you've heard Jeremiah Abiah. His debut album, Chasing Forever, made a strong statement in the soul circuits back in 2006 and he's sung background for artists like George Michael, Chuck Mangione, Amel Larrieux and powerhouse gospel vocalist Yolanda Adams. With his sophomore release, Life As a Ballad, he makes his strongest statement yet — as a singer, a songwriter and as a balladeer of profound proportion. He's not your average crooner, regurgitating a once-was kind of smoothness and this is not your run of the mill ballads record. Comprised of gorgeous, acoustic singer-songwriter leaning repertoire, and backed by gifted musicians, including Marvin Sewell, Ulysses Owens, Jr. and special guest, pianist Robert Glasper, Life As a Ballad firmly plants Abiah in the esteemed company of the emerging male vocalists as well as that of the legends from which he draws inspiration.
September

–Angelika Beener
14 tie) Shad – Melancholy And The Infinite Shadness (Black Box/Decon)

You probably haven't heard of Shad, either. While the New York Times breaks down Lil' Wayne's new album of the New Yorker discusses Rock Ross, Canadian rapper Shad has been making some of the most articulate and intelligent hip-hop around. More likely to delve into his own weaknesses or the philosophies of his revolving cast of insightful losers than pile on the gold necklaces, big cars, or trophy girlfriends, Shad is far too often overlooked. This EP isn't his strongest work overall, but the rocking "It Ain't Over" can stand with his best.
–Jonathan Wertheim
14 tie) Me'Shell N'degéOcello – Pour Une Âme Souveraine: A Dedication to Nina Simone (Naïve)

More than any other jazz singer, Nina Simone had a mysticism unparalleled. (It would also be short-sided to limit her to just a jazz singer, of course.) It's only befitting for an equally unpeg-able artist with enigmatic qualities all her own to pay tribute to her. This is the album from Me'Shell NdegéOcello you never saw coming, yet is as natural as breathing. She is joined by a cast of dynamic women including Lizz Wright, Toshi Reagon and Sinead O'Connor. Singer Cody Chesnutt successfully pulls off the holy grail of social anthems, "To Be Young, Gifted and Black", emitting the spirit of a song still necessary in an America still striving toward its promises of equality. This dedication is a gorgeous pared-down set of mainly classic tunes from Simone, reinterpreted with an aura of honesty, vulnerability and respect.
–Angelika Beener
14 tie) Joey Bada$$ – 1999 (Self-Released)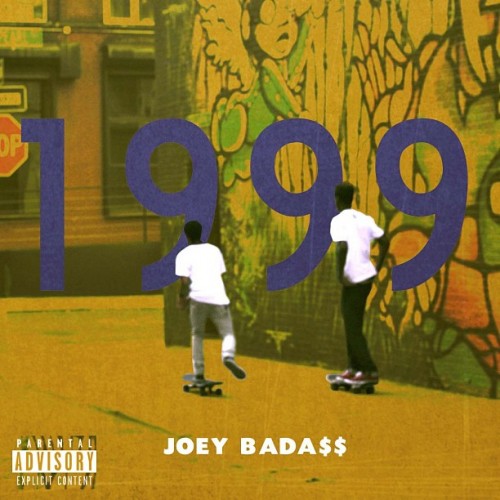 Joey Bada$$ is a young rapper, relatively new to the world of hip-hop. Too often we associate the young with the beginners. But when the talent is there, all that comes with youth is new, fresh ideas. Joey Bada$$ has got the talent. But a quick listen to the album, and you'll realize Joey is about throwbacks! For instance, the video for "FromdaTomb$" feat. Chuck Strangers was copied from one VHS tape to another, giving it that old cassette look. His "Snakes" feat. T'nah Apex features even features some J-Dilla! Just the whole atmosphere of the album is so different from the rest of hip-hop in 2012. It doesn't sound anything like a more decidedly contemporary sound on our list, the Talib Kweli mixtape, for example.
But it would be a mistake to call Joey's music "old"; it isn't like it has been done before! The music represents a throwback, for sure. But the sound is fresh in just that sense. Really what we have here is a modern take on the cool, smooth sounds of the late 90s and early 2000s. Hip hop, in my opinion, is in bad shape, relative to its past. The more hip hop becomes mainstream, the less it evolves, the less it is an original and creative art form. Joey's throwback is made of just that originality and creativity.
1999, full album

–Marc Antunes
11 tie) Robert Glasper – Black Radio Recovered (Blue Note)

2012 inarguably belongs to pianist and producer Robert Glasper. His breakthrough album Black Radio remains in the Top Ten jazz charts ten months after its release, and cracked the Billboard Top 20 earlier this year, finding company among artists like Adele and Rhianna. More importantly, the album has created a movement, restoring the jewel that is R&B of the crown of black music, and set the barometer of musicianship and creativity to extraordinary new heights. With Black Radio Recovered, Glasper makes a similar case in the hip-hop realm, collaborating with producer legend, Pete Rock, on its title track and other hip-hop-heavy-hitters like Ahmir "Questlove" Thompson, and 9th Wonder. Black Radio Recovered is an ode to the importance of a great remix, as it was in the 90s, and a reminder that Glasper's vast an unpredictable reach screams for more of what he's given us this year. One can only imagine what's to come.
Twice (?uestlove's Twice Baked Remix) [feat. Solange Knowles & The Roots]

Dillatude #2

–Angelika Beener
11 tie) OFWGKTA- The OF Tape Vol. 2 (Odd Future)

Odd Future Wolf Gang Kill Them All (OFWGKTA) has always made music as far as possible from the politically correct, and should always be kept as far as possible from the ears of children. These (mostly) young men are strange. In fact, these young men (and fellow female compatriot Syd Tha Kyd) are probably close to insane. They are not normal. This is why, I think, that the hip hop they make is so great. Hip hop used to be a music on the margin of the mainstream. It used to be different, excluded from regular society. It was about a hard life on the streets, rejected by structures like school, family, and so on. It was about a life in illegality. This factor in hip hop allowed hip hop to be careless of satisfying societal expectations. Recently, hip hop has become a more mainstream phenomenon.
But Odd Future is there to remind us what hip hop is really about. This carelessness for norms is what allows for Odd Future to create creative masterpiece after creative masterpiece. This album, The OF Tape, Vol. 2, is just another album in the growing list of great works created by Odd Future so far.
The OF Tape Vol. 2, full album

–Marc Antunes
11 tie) Japandroids – Celebration Rock (Polyvinyl Record Co.)

I'm a sucker for records that go all out. Call it a reaction to ironic distance that seems to pervade so many records (best described here), but almost all my top picks of the year–Fiona Apple, Frank Ocean, Killer Mike–were a product of pure, soul-bearing honesty. And to that end, nobody went as all in as Japandroids, and Celebration Rock is the rare record that went big and came out bigger.. Every song demands to be shouted along, every lyric to be worked into a YOLO rallying-cry, and critically, every riff, drum fill and chorus cranked to 11. It's the kind of record that makes me remember to use the term "anthemic" sparingly; after all, what anthem this side of Springsteen could possibly be bigger than "The House That Heaven Built"? Granted, there is nothing particularly cool about Celebration Rock, and having seen them live, I can report there is nothing particularly cool about these two skinny Canucks either. But then Japandroids concerns are more immediate, ones based a big, bold affirmation of life lived in the moment. Nobody soundtracks that spirit better.
Celebration Rock, full album

–J.D. Swerzenski
The 2012 Season of Lists
The Best Non-Jazz Albums of 2012: #25*-11
The Best Non-Jazz Albums of 2012: #10*-1
The Best Jazz Albums of 2012: #25*-11
The Best Jazz Albums of 2012: #10*-1