By the circumstances of our calendar, we culturally use the transition into the new year as a time to reflect. We reflect on how we have grown as people, about the ties to our friends new and old, about how we have conducted ourselves, of what we have liked and didn't like. We as people periodically reflect, and as people who love music, we periodically reflect on what moved us, sometimes with a little extra intensity. Our mood may change over time, but it's nice to know that in this moment at the end of 2012, we were able to put down some of the what we consider the music we've heard at this moment in time that moved us a little bit more that others who might one day do the same. It's nice at the end of the year to reflect on what we felt in that moment.
–ADH, EiC
The 2012 Season of Lists
Think of it like the music journalists' award show without it taking three hours to get through… unless you want to take three hours, itisreally good music that if you haven't heard by now, you really should. It's remarkable, literally. We're remarking on it right now.
The Best Non-Jazz Albums of 2012: #25*-11
The Best Jazz Albums of 2012: #25*-11
The Best Non-Jazz Albums of 2012: #10*-1
The Best Jazz Albums of 2012: #10*-1
10) Lionel Loueke – Heritage (Blue Note)

Listen after listen through Loueke's Heritage, "gamechanger" is the best term that comes to mind. There just isn't anyone around who approaches the guitar like this today. Just as few approach vocal like this, either. Mark Guiliana, who has worn many hats on many albums this year, just doesn't smash on the drums in a more satisfying way than here. Derrick Hodge just doesn't hold down the fort any better than here. Robert Glasper's guiding hand as producer and on keys doesn't articulate ideas any more clearly than here (yes, even on his own Black Radio, in my opinion). Fewer albums think outside the box than this and are more pleasurable a listen. Heritage really is an incredible album. Literally, like it strains credulity how great this album is.
[arve url="https://www.youtube.com/embed/WYyxCfuGjgk"/]
–Anthony Dean-Harris
8 tie) Marcus Miller – Renaissance (Concord Jazz)

Ladies and gentlemen, here's another groovin' album brought to you by Marcus Miller. Renaissance is pure Marcus Miller to the bone, with Miller's funkin' basslines and melodies combined with the absolutely crazy improvisation of young lions such as Sean Jones, Maurice Brown, and saxophone phenomenon Alex Han, this record is definitely a keeper. On this album's EPK Marcus spoke of Han doing a solo album, well this is definitely a great warm up.
Mr. Clean
[arve url="https://www.youtube.com/embed/n5ne-noBJxc"/]
Detroit
[arve url="https://www.youtube.com/embed/dwqWhEsAOJQ"/]
–Jared Bailey
8 tie) Brad Mehldau – Where Do You Start (Nonesuch)

Brad Mehldau has done something very bold this year. He's released two full albums with his trio of Larry Grenadier and Jeff Ballard – one of originals, and one of covers, jazz and otherwise. This is a bold move because, while Mehldau is certainly one of the best pianists to come around since Keith Jarrett, he's never been one to switch up his music. The Mehldau of 1994, or 1998, or 2002 sounds very much like the Mehldau of today; the songs come and go, the bands grow and shrink, but the piano stays the same. It is, then, a testament to Mehldau's genius that Ode and Where Do You Start, both released on Nonesuch, are so enjoyable to hear.
Where Do You Start was the second of Mehldau's releases this year, and though it skirts an overstayed welcome, it never quite gets there. There's no "Everything In Its Right Place" this time – it's refreshing to see Mehldau still finding new inspirations – but the moody "Jam" captured the essence of that groove. That track, with its seamless predecessor, a wonderful "Samba E Amor," provides the best of the record, but there's much to enjoy here. Ballard skitters through an energetic "Airegin," and the whole band digs down deep on "Brownie Speaks." It's 2012; Mehldau doesn't have to prove anything anymore. And as with Kurt Rosenwinkel's Stars Of Jupiter, he knows it. His records this year are perfectly crafted explorations of an established sound; the fact there's freshness in them speaks to the mastery of their creator.
Holland
[arve url="https://www.youtube.com/embed/V8yvLh4NqUI?list=PLCC6F392ED5FCB19B&hl=en_US"/]
Where Do You Start
[arve url="https://www.youtube.com/embed/AhbDJDXQMGY"/]
–Jonathan Wertheim
7) Kurt Rosenwinkel – Star of Jupiter (Wommusic)

Star of Jupiter has something else, something that sets it apart from the others. Of all the albums I chose for 2012, this one is the only one by a well-established musician, at the height of his artistic powers, who did something rather startling this year. Mehldau is an established pianist, and he's certainly at his peak these days – and the two albums he released this year are in his well-established vein. They are almost quintessentially Mehldauian. Same for The Bad Plus, or J.D. Allen.
Star of Jupiter is not exactly a departure from Rosenwinkel's previous work. It all sounds exactly like Kurt should sound. But this is the first record he's released that seems to have settled into something; this time, Kurt has recognized that he's a bit of an elder statesman, and used his record to expound on that realization.
There's no saxophonist on the record to compete with Kurt for solo space or hide Kurt's melody statements; it is as purely Kurt Rosenwinkel in its sound as if it was a solo record. Kurt has taken every facet of his career and blended it into this one disc. Rarely do we see the epitome of a musician wrapped in one record. Check it out.
kurt1
[arve url="https://www.youtube.com/embed/G1R5K4riubE"/]
Mr. Hope
[arve url="https://www.youtube.com/embed/pK0oepYW5Zc"/]
–Jonathan Wertheim
5 tie) Gregory Porter – Be Good (Motéma)

Gregory Porter is one of the finest vocalists to come along in the last generation or so, and his sophomore album, Be Good just earned him a Grammy nomination; his second in his very short career. This time, a nod from the R&B genre, which makes perfect sense given the scope of black music Porter so honestly interpreted on Be Good. Porter's versatility is noteworthy as he transports listeners from Renaissance Harlem, to the down-home South, as he does with "Real Good Hands"; the song which he is nominated for in the Best Traditional R&B Performance category. Porter isn't just proving he has staying power, but that his voice is vital to the jazz continuum.
Be Good (Lion's Song)
[arve url="https://www.youtube.com/embed/9HvpIgHBSdo"/]
Real Good Hands
[arve url="https://www.youtube.com/embed/xf4H2JrY7PU"/]
–Angelika Beener
5 tie) ERIMAJ – Conflict of a Man (Don't Cry Recordings)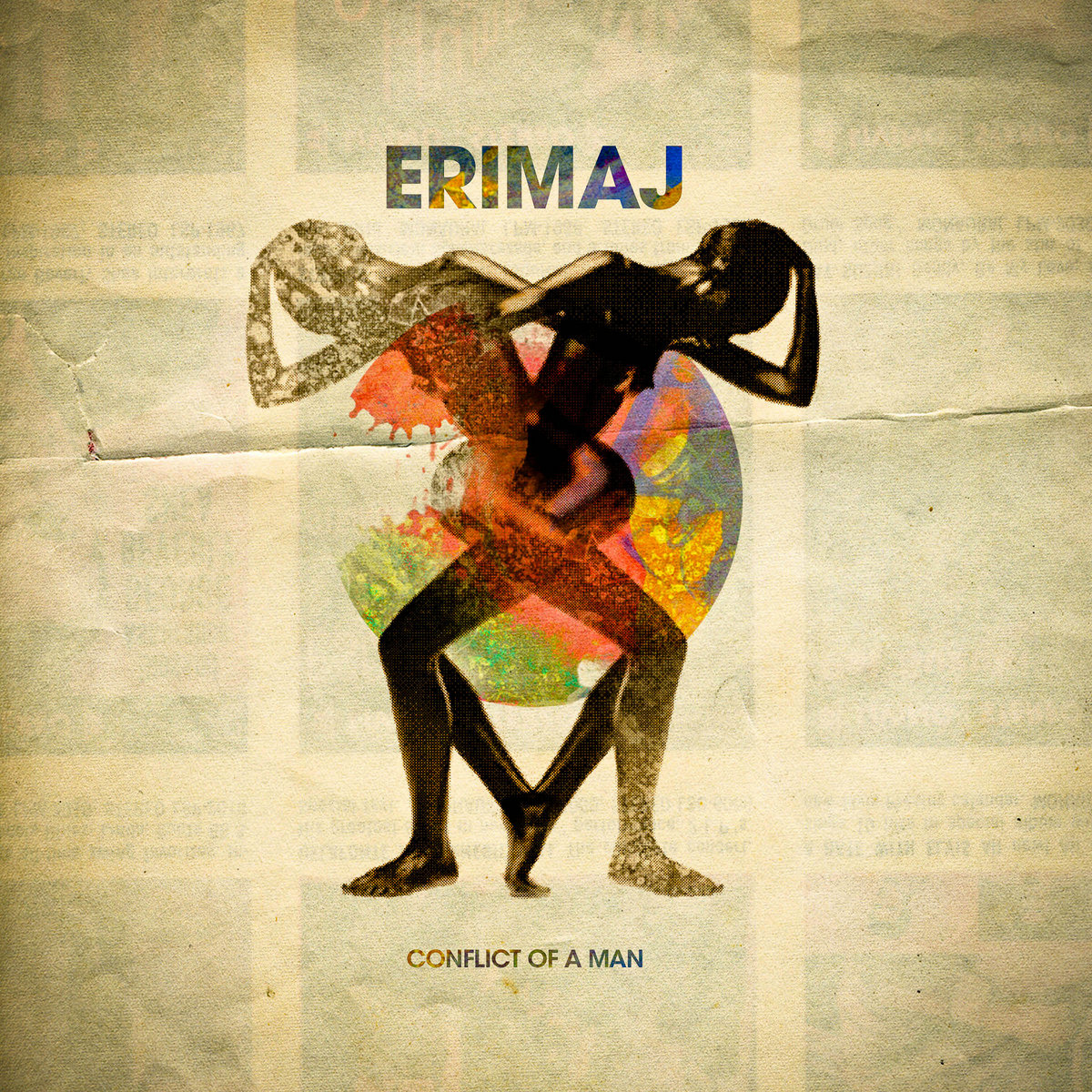 There are moments throughout ERIMAJ's Conflict of a Man where it's not hard to think this group is the second coming of The Crusaders. They get funky. They swing. They're cooler than cool. They have the capacity to make music ahead of its time and deeply rooted in it at the same time. Maybe it's something in the air in Texas that allows drummer/musical director Jamire Williams to channel the spirit of Joe Sample & Wayne Henderson's group from the 60s and 70s. Maybe Williams, Corey King, Jason Moran, Matt Stevens, Burniss Earl Travis, and Chris Turner know just where to pull their inspiration.
Conflict of a Man
[arve url="https://www.youtube.com/embed/3TvEh4mw5tE"/]
Social Life
[arve url="https://www.youtube.com/embed/qYVHvVrFaTc"/]
–Anthony Dean-Harris
4) Christian Scott – Christian aTunde Adjuah (Concord Jazz)

Christian Scott worked hard last year: this year, he was able to release a two disc album of absolutely brilliant material. According to the man himself, the significant thing about this album is that it is the first album he releases having 'completed his name', Scott. The name aTunde Adjuah represents Christian's African ancestry. And so the name change can be seen as a release from a 'negative enterprise'. I think it also represents a release in terms of music.
Jazz is about freedom. That's in its improvisatory nature. For a long time, Scott's music was about bringing separate and very different instrumental voices together into one. aTunde Adjuah, however, concentrates on singling out each voice. In fact, each instrument was recorded independently. The release I mentioned above paradoxically comes in the form of a tension that results from the singling out of voices. The freedom is from the obligation of making music that is entirely coherent, presented as a strong single thing. This factor seems to be one of the most important in this album, and makes for something truly exceptional.
Who They Wish I Was
[arve url="https://www.youtube.com/embed/I73T9yLdoH0″/]
Jihad Joe
[arve url="https://www.youtube.com/embed/G8ydIedRWQU"/]
–Marc Antunes
3) The Bad Plus – Made Possible (Decca/Universal)

The legendary trio of pianist Ethan Iverson, bassist Reid Anderson, and drummer Dave King has been through some rather fascinating evolution over their last few albums; their progression from 2008's For All I Care featuring vocalist Wendy Lewis and their back to basics vibe in 2010's Never Stop has made for interesting listening but just wasn't quite up to par with their earth-shattering sound for which they've been known. (I don't want to be that guy who says, "Aw, man, why couldn't you stay awesome back when you did Prog, man?" but I guess I sort of am, at least until now anyway.) However, it was to be expected that they were just warming up to this year's release, replete with the trio's most inventive compositions yet with just the right touches of electronic sound that complements rather than overpowers the acoustic trio. Once again, The Bad Plus has made us all rethink what the piano-bass-drum jazz trio is capable of. We're glad to have them back in full form.
[arve url="https://www.youtube.com/embed/videoseries?list=PL7Va3CgXwt5OnugzuNe97fCzMuuwMkb41&hl=en_US"/]
–Anthony Dean-Harris
2) Vijay Iyer Trio – Accelerando (ACT)

Even within the often snobby confines of the jazz world, there's something uniquely pretentious about naming your record after an obscure musical term. But in the case of Accelerando, Vijay Iyer choice of title is more than music theory jargon, it represents a unifying concept. Translating directly as "gradually quickening or accelerating in time," Iyer and his Trio of Stephan Crump on bass and Marcus Gilmore on drums utilize the concept as a perfect vehicle for their remarkable rhythmic interplay. Reaching beyond the typical head-solo jazz structure, Iyer and crew find ways to weave around each other, patiently working with each other to build moments of tension and even more rewarding release (best highlighted by the gradual 7-minute build of "Optimism.")
Also on display is Iyer's adeptness for picking outside the box songs (Heatwave's "Star of a Story," Flying Lotus' "Mmmhmmm"), a talent that may only be rivaled by fellow piano innovator Brad Mehldau. A restless, concise, and wonderfully crafted record, Accelerando is a record that could be listened to one or one hundred times with equal results. Even given his remarkable catalog, Iyer has topped himself with this one.
[arve url="https://www.youtube.com/embed/videoseries?list=PLD837FDA4FFD83E61&hl=en_US"/]
[arve url="https://www.youtube.com/embed/BVtru06ASSs?list=PLD837FDA4FFD83E61&hl=en_US"/]
–J.D. Swerzenski
1) Robert Glasper Experiment – Black Radio (Blue Note)

One of the most fascinating things about pianist Robert Glasper's Black Radio is how so many in jazz didn't know what to do with it. It's gripping, it's impressive, it reminds the world how anything is better when Lalah Hathaway is involved (it gives Lupe Fiasco gravitas). The album is the hodgepodge barrel of fun to listen to play after play as it likely was for Glasper and his master crew of Experiment musicians (Chris "Daddy" Dave on drums, Derrick Hodge on bass, Casey Benjamin on sax and vocoder) to make. Ultimately, the album encapsulates everything its title indicates– it is black radio, sounding just as at home on Tom Joyner or Steve Harvey's syndicated morning shows as they do through your iTunes or NPR, and it's been recognized with three Grammy nominations to prove it. It's a pleasant reminder of the cool pop music you may have heard before, even if you maybe never had.
Black Radio feat. Yasiin Bey
[arve url="https://www.youtube.com/embed/pumWJ4N7rNc"/]
Gonna Be Alright (F.T.B.) feat. Ledisi
[arve url="https://www.youtube.com/embed/nlWXsfjHeA8″/]
–Anthony Dean-Harris
The 2012 Season of Lists
The Best Non-Jazz Albums of 2012: #25*-11
The Best Non-Jazz Albums of 2012: #10*-1
The Best Jazz Albums of 2012: #25*-11
The Best Jazz Albums of 2012: #10*-1