As we reach the end of another season of year-end lists, I still find it just as difficult to find some thread to move through this year as when I started this endeavor some weeks ago. Yes, there is a boldness in these albums, in the works that have been created this year. There have been folks like Ben Allison or Darryl Reeves who made inspiring work and produced & released it independently. There are artists like Wayne Shorter and Terence Blanchard who are continuing to push forward in their careers re-inspired by the record label business once more. Some artists continued to swing and others made lofty, difficult, rewarding art pieces. Yet as long as these artist made work that is true to themselves and connect to an audience in an awe-inspiring way, it's not hard to see how success can grow from there. I find it hard to say whether or not it's been a good year for music in any given year because looking for the best of music is what my job is all about. These folks at the top of our staff list have made my job pretty easy.
–ADH
Tie 9.
Chucho Valdés & The Afro-Cuban Messengers – Border Free (Jazz Village)
If Chucho followed the script right, he should be taking it easy. After a half-century of crafting some of Latin jazz's most innovative and intense music via Irakere and his own solo recordings, the legend has certainly earned it. Instead, Chucho is cutting records like Border Free, which may be the most fiery material he's laid to tape in a decade. Backed by a crack band of young, energetic talent, Chucho proves across this sprawling 70-minute set that he hasn't lost a step.
–J.D. Swerzenski
[arve url="//www.youtube.com/embed/Kqdo3P-OnIs"/]
Tie 9.
Gilad Hekselman – This Just In (JazzVillage)
Gilad Hekselman's trio with Joe Martin on bass and Marcus Gilmore on drums has been together for years now, through multiple albums, and has a natural rapport on par with any other working band out there. Throw Mark Turner on sax into the mix and it's a good thing added to another good thing. This Just In features the usual fluid playing from Hekselman, super-strong rhythmic backing from Martin and Gilmore, and fantastic sax work from Turner, along with some fairly subtle synth additions, a new touch for Hekselman. The little news-flash interludes between the songs sometimes work for me and sometimes don't, but listen to "Above," "This Just In," or "Nothing Personal," to name a few favorites from this one and you'll see why this belongs on a list of the best albums from 2013.
–Ben Gray
[arve url="//www.youtube.com/embed/Awxjw3ki38w"/]
Tie 9.
Now Vs Now – Earth Analog (Now vs Now Productions)
When Jason Lindner's Now Vs Now came onto the scene a couple years ago, some new, inspired sound seemed to have emerged from the ether. Under the guiding hand of Me'Shell Ndegeocello's production, Now Vs Now's 2009 debut had cool to spare and left the world wanting more… for four years. Now, in a fourth quarter of the year release, Lindner on keys, Panagiotis Andreou on bass, and the Jersey monster Mark Guiliana on drums came out in the clutch with Earth Analog, an album that never loses its sense of groove and what made the first album so noteworthy. These songs are head-noddingly brilliant, the turn in "Future Favela" is too clever, the beat in "Veneno" is too clever. It's an outstanding release that's a blessing to the world. My life is markedly better now that I have it. This album is that good.
–Anthony Dean-Harris
8.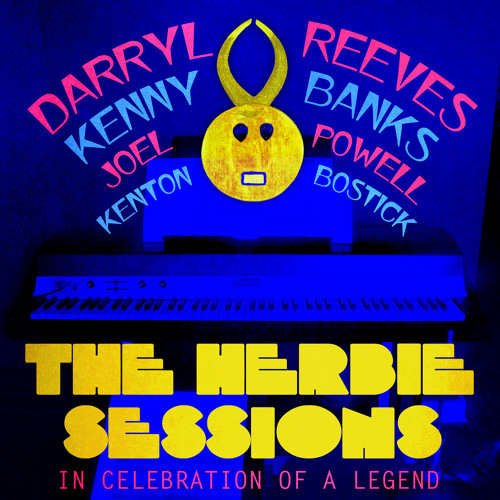 Darryl Reeves – The Herbie Sessions (Live 4.5.2013) (Self Released)
It's been 40 years since Herbie Hancock released Head Hunters and left an indelible mark on the jazz landscape (and confusing the hell out of folks looking through liner notes, trying to discover seemingly every sub-Saharan African musical instrument ever invented). As Hancock made the definitive turning point album of jazz, scores of musicians have looked back at this work in amazement and every now and then with the bolt of courage necessary to make this work their own. However, the finest version of these tunes in quite some time not from the genuine article had to have come from a quartet playing a gig in a little cafe in an artsy neighborhood in Atlanta one spring evening this year. Alto saxophonist Darryl Reeves has had a pretty great last couple years, steadily rising in accolades and fresh off the release of his own album, Mercury last year which exemplified his voice which perfectly melds jazz and R&B tones. It's a sound that typifies the Atlanta jazz scene and the perfect framework for Hancock's tunes. Reeves' arrangements have a smooth, pop, accessible, but very heavy tack to them, turning Hancock's songs over and over, wrenching every bit of amazingness from them as only truly great live sessions can. Reeves, keyboardist Kenny Banks, bassist Joel Powell, and drummer Kenton Bostick really clicked that night in Atlanta's Midtown and this recording captured lightning in a bottle.
–Anthony Dean-Harris
Tie 6.
Cécile McLorin Salvant – Woman Child (Mack Avenue)
It's baffling how much terrible vocal jazz is out there, to the point where you might as well swear off anyone after Ella. Thank the jazz gods for Cécile McLorin Salvant, who at 23, is undoubtedly the most exciting budding jazz star since Esperanza Spalding. She's certainly got the range, as proven on her debut Woman Child. French cabaret, 52nd Street swing, Mississippi blues, she does it all, and with style and soul to match.
–J.D. Swerzenski
[arve url="//www.youtube.com/embed/7l0rOWc0Dyo"/]
Tie 6. Chris Potter – The Sirens (ECM)
Though he doesn't get the attention of some of his contemporary tenor titans like Joshua Redman or Brandford Marsalis, Chris Potter has spent a three-decade career proving himself to be a colossal sax talent. A cross section of any of his dates as a sideman or leader reveals a master capable of scorching in the late-era Coltrane tradition or laying down the types of lyrically beautiful lines Ben Webster was known for. The Sirens finds Potter somewhere right in the middle, a sweet spot which helps make the record one of the most satisfying in his catalog. "Stranger At The Gate" may encapsulate this best, a collective swell working off the simpatico rhythm section of Eric Harland, Larry Grenadier and David Virelles all to lift Potter's sax ever skyward.
–J.D. Swerzenski
[arve url="//www.youtube.com/embed/5AR5whSZNVs?list=PLn8Ia5ak3pFhATXPg6X_l8MDTirRDNcO5″/]
5.
Edward Simon Trio – Live at the Jazz Standard (Sunnyside)
You're curious about this one because it's got the trio's live take on "Giant Steps," and because it's a piano trio with Edward Simon on keys, John Patitucci on bass, and Brian Blade on the drums. Who? Oh, the drummer and bassist from Wayne Shorter's quartet. Riiiiight, so you want to check this one out. And yes, their version of "Giant Steps" is killer. But you'll fall for this one on the album's closer Simon's "Pere" when, near the end, Brian Blade takes a solo and just when you say "ah!," somebody in the band does the same and you realize that they've gone on this journey and taken you with them and in an album full of fantastic solos from all three musicians and great rapport among the musicians, was there a bad moment? No, there was not.
–Ben Gray
4.
Butcher Brown – a & b-sides (Self Released)
If there was a group that seemed to arise inexplicably from a cloud of smoke this year, it would be Richmond, Virginia's Butcher Brown. Of course, the group consisting of drummer Corey Fonville (Christian Scott [aTunde Adjuah] Quintet, the ever-contentious Nicholas Payton), the multi-talented instrumentalist Devonne Harris on keys, guitarist Keith Askey, and bassist Andrew Randazzo didn't truly come from nowhere. Based on the strength of their releases this year (including the just dropped Backtracks LP), these dudes seemed to have been laying in wait, honing their fuzzy, funky sound for just the perfectly chill moment. However, if they were just looking to make a splash with their dual EPs, A-Sides and B-Sides, they overshot the mark a tad, ultimately releasing the best joint album this year. You've heard me say it all before– they're like if Madlib's Yesterday's New Quintet sprouted four more heads, they're like a jam session in a cloud, they're almost too cool. All these praises apply and more.
–Anthony Dean-Harris
[arve url="//www.youtube.com/embed/MGtjs3CT5FQ"/]
3.
José James – No Beginning No End (Blue Note)
If Jose James performed this album a cappella, and sang the entire thing in Greek, his meaning would be just as clear as it is on No Beginning, No End. James' voice is a bunch of adjectives that I don't normally use when writing about music – silky, velvety, seductive – and it is perfect for the music on this album. From the instrumental opening of "It's All Over Your Body" that sets this off, the mood is set, and James' vocals carry that mood throughout the album. The best example of the mood on the album, maybe, is "Birds of Space," with a spacy synth melody, super-mellow atmosphere, and seductive vocals from James. Despite what I said above, though, thankfully James does not perform this album a cappella, and the instrumental work on here is just as good as James' vocals – check the jam at the end of "Vanguard" for some of the best stuff that I've heard from Robert Glasper and Chris Dave (along with Pino Palladino on bass on this track). Similarly strong playing on the entire rest of the album, with Robert Glasper, Grant Windsor, and Kris Bowers on keys, Chris Dave and Richard Spavens on drums, Corey King and Takuya Kuroda on trombone and trumpet, respectively, and Jeremy Most on guitar. And it must be said in looking at this album that it's not humanly possible to get "Trouble" out of your head within 3 or 4 days of hearing that tune. Jose James isn't the only vocalist working at the border of jazz and R&B, but on No Beginning, No End, he shows that he's at the top of the game.
–Ben Gray
2.
Terence Blanchard – Magnetic (Blue Note)
The cross-generational assembly model is no new thing in jazz, of course, and it's certainly a model that works here with bells on. Blanchard is sharp as ever and truly a marvel to behold here. Time and again, Fabian Almazan draws your attention to why he needs to be everywhere all the time in everything. However, it's the fact that this is an album in which everyone in the central quintet (also including Brice Winston on tenor sax & Joshua Crumby on bass) brought compositions to contribute that makes this work rise above. The central core of Almazan's jangly "Pet Step Sitter's Theme Song" featuring Lionel Loueke, Blanchard haunting "Hallucinations", and Kendrick Scott's exhibition of rat-a-tat dexterity of "No Borders Just Horizons" is some of the best studio work in jazz this year. Here's hoping we get a few more outstanding albums out of Blanchard with this particular group. If they're this great together, truly together like this, for a while, Lord knows what we can expect.
–Anthony Dean-Harris
[arve url="//www.youtube.com/embed/uMTjt7EcGtU"/]
1.
Kendrick Scott Oracle – Conviction (Concord Jazz)
In the seven years since Kendrick Scott cut the debut of his band Oracle, the drummer has been keeping plenty busy, recording a slew of sideman dates and proving himself an invaluable part of Terence Blanchard's band. That's not to say he'd completely put Oracle on the back-burner; Conviction is simply too thoughtfully constructed, its covers too carefully chosen, its every note too crisply executed for that assessment. It's simply wonderfully crafted jazz, the kind that manages to walk the fine balance between carefully considered and creatively open-ended. There's a logic to the ebb and flow of these pieces, all of which reaches a thrilling apex on Scott's own "Liberty or Death."
–J.D. Swerzenski
[arve url="//www.youtube.com/embed/b4rYicKvhtw"/]
[arve url="//www.youtube.com/embed/Sc1McsplkMU"/]