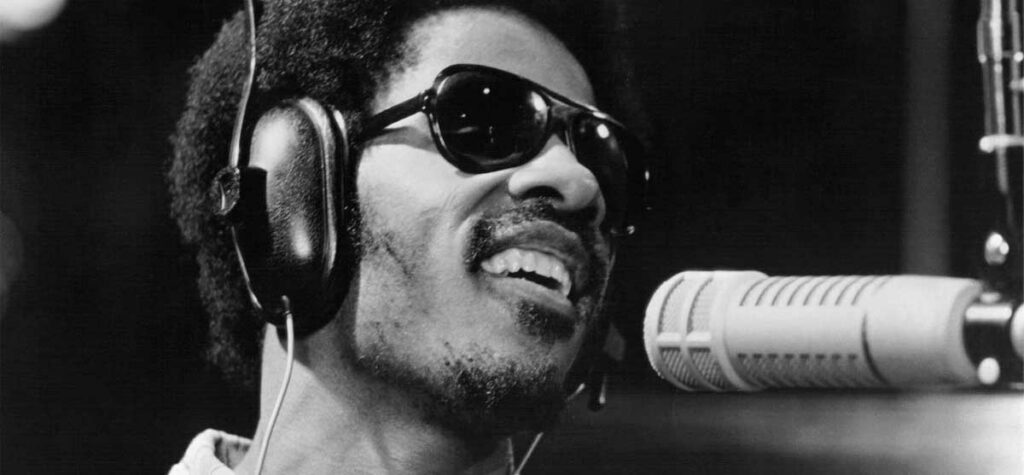 Stream Stevie Wonder's "Isn't She Lovely" plus four other notable jazz versions of the song by Sonny Rollins, Arturo Sandoval, Aaron Golberg and Jacky Terrasson!
Stevie Wonder's "Isn't She Lovely", Songs in the Key of Life (1976)
The last time you heard this song was probably while walking through the aisles of your grocery store. Its first appearance, though, was on Stevie Wonder's 1976 album Songs in the Key of Life.
It's got a healthy dose of that 1976 cheese, and sounds dated (not necessarily in a bad way), but Stevie Wonder's voice makes this work.
The bounciness and groove belie a more sophisticated musical approach than most of what you'll find on pop radio (or in your local grocery store)!
Stevie takes a harmonica solo on this tune starting around 1:10, largely sticking to the melody he uses for the verses. There are a surprising number of layers here on close inspection – the basic drum track, a tambourine, and multiple synth lines behind the main keyboard chords.
More harmonica around 2:15, slightly more ornamented than the earlier solo but still sticking fairly close to the song's melody. This harmonica solo continues to the end of the tune as it fades out.
I'm pleasantly surprised by how much is going on in Stevie Wonder's songs on close listen, and this is no exception.
Sonny Rollins' "Isn't She Lovely", Easy Living (1977)
"Isn't She Lovely" has spawned a number of jazz covers. A year after its release on Songs in the Key of Life, Sonny Rollins included a cover on his 1977 Easy Living album with George Duke on keys, Tony Williams on drums, Byron Miller on bass, Bill Summers on congas, and Charles Johnson on guitar.
This starts with Duke's keys and Miller's bass before a lone note from Johnson's guitar. The drums and percussion join, along with Rollins' sax, at about 0:20, and boy, does this fit the album's title Easy Living. This makes me want to be on a cruise ship with a cocktail in my hand, maybe wearing some jeans and a blazer, discussing my golf handicap.
Around 1:20, Rollins takes a sax solo, very much in the smooth jazz/sitcom theme song vein here. This is kind of difficult. A guitar solo starts around 2:45, in the same vein as the sax solo that came before it.
Rollins is back around 4:15 for more sax solo. Here, he's farther from the main melody of the tune, improvising in a high register on his horn. Better, but the foundation of the tune remains the same, just not getting it done for me.
You know, I'll just end here by saying that this is not my thing, but Sonnny Rollins is the man nonetheless. Maybe I'm being too harsh; have a listen for yourself:
Arturo Sandoval's "Isn't She Lovely", Americana (1999)
Moving along… Arturo Sandoval also recorded a version of "Isn't She Lovely" on his 1999 album Americana. Sandoval's trumpet is joined by a large cast of characters and a number of synthesizers. This version… well, again, listen for yourself.
Readers, I promise you at least two great jazz covers of this Stevie Wonder tune. Eric Harland is on the drums for both (a good sign). It may have required more than 30 years for "Isn't She Lovely" to turn itself into a great platform for jazz improvisation, but perhaps the time has arrived.
Jacky Terrasson's "Isn't She Lovely", Smile (2002)
Jacky Terrasson's 2002 album Smile, with Terrasson on piano, Eric Harland on drums, and Remi Vignolo on bass, included a piano trio version of "Isn't She Lovely."
This version starts out with Eric Harland's drum-and-bass style drums, kick drum booming and high hat and rim shot shuffling, before Terrasson plays the "Isn't She Lovely" melody on piano with some spare bass from Vignolo.
Starting at about 0:30, Terrasson starts to add some dissonant touches to the melody, making for a semi-deranged reading of the tune while Harland's drums continue to drive this tune along. Vignolo punctuates Terrasson's statements throughout.
Very cool piano line around 1:45-1:55 or so… Shortly afterward, around 2:00 or 2:05, Terrasson returns to a more conventional, consonant version of the melody before adding his dissonant touches again. At about 2:35, Terrasson again returns to the lush version of this melody, tossing in some dissonant touches as he goes.
They end with a quick composed phrase. Great, subtly virtuosic playing from Harland and Terrasson on this, and Vignolo's bass adds just the right touches to make this a fully-realized version of the tune.
It's very cool how Terrasson moves between a lush statement of the melody and the deranged-sounding statements of the melody at the end of this version.
It can be done! A fantastic jazz version of "Isn't She Lovely."
Aaron Goldberg's "Isn't She Lovely", Home (2010)
Aaron Goldberg also does an excellent piano trio version of "Isn't She Lovely" with Eric Harland on drums, this one found on Goldberg's 2010 album Home. Goldberg and Harland are joined by Reuben Rogers on bass for this version.
Goldberg starts this version with a piano arpeggio and some spare percussion from Harland. Goldberg adds a left hand arpeggio as Harland settles into a groove.
At about 0:25, Goldberg's right hand starts a strong improvisation while his left hand holds down the groove he's established along with Harland's drums.
The "Isn't She Lovely" melody first appears at about 1:10 as the song calms down momentarily to state the melody. Rogers' bass joins here as well. After the ascending line from "Isn't She Lovely" around 1:30, Goldberg moves into a piano solo, then back to a lush statement of the main theme around 2:10.
Again, this moves back into a piano solo around 2:40 with a strong foundation from Harland and Rogers. It's a strong solo, great piano trio playing that is clearly derived from the tune's melody but very original.
Around 4:20, Goldberg's left hand arpeggio returns and Harland's drums get a bit busier. Shortly afterward, Goldberg's piano has loosened up, with Roger's bass picking up the line from Goldberg's left hand.
Harland's drums build an impressive rhythm here, something that few other drummers could manage, and the trio builds to a crescendo, then comes to an abrupt halt at the end of this version.
Yet another exciting jazz version of "Isn't She Lovely" helped along greatly by Eric Harland's drumming. Goldberg's piano arpeggios, particularly at the start of this version, are great, and his piano solo is very strong piano trio playing.
Rogers' bass doesn't get the spotlight shone on it, but provides good support throughout. This trio has also done "Isn't She Lovely," augmented by Mark Turner's sax, in a 2011 set at the Village Vanguard that was captured by NPR ("Isn't She Lovely" starts around 52:30) – also well worth your ears.
Conclusion
Stevie Wonder's tunes are finely-crafted originals. "Isn't She Lovely" has served as a platform for some fantastic improvisational approaches, and also to… some other approaches.
The piano trio versions from Jacky Terrasson and Aaron Goldberg-led bands with Eric Harland on drums (and the quartet version led by Aaron Goldberg with Mark Turner) show two very different and very successful approaches to "Isn't She Lovely," with strong playing from everyone involved.
I'm not saying you shouldn't check out the other versions out there, I'm just saying.
"Isn't She Lovely" FAQ
What album is Stevie Wonder's Isnt She Lovely on?
"Isn't She Lovely" was origianlly released on Stevie Wonder's Songs in the Key of Life album in 1976.
What instrument is being played in Isn't She Lovely?
The main instrument heard in the original version of Isn't She Lovely is Stevie Wonder's harmonica although Wonder also sings and plays percussions, RMI Electra Piano, Fender Rhodes, bass synth, and drums on the track. Greg Phillinganes also features on the song on keyboards.
What is Isn't She Lovely about?
Stevie Wonder's "Isn't She Lovely" was written for his daughter Aisha Morris and a recording of Morris bathing as a toddler can be heard during the final section of the song.
What key is Isn't She Lovely in?
Isn't She Lovely is written in the key of E Major
What song form is Isn't She Lovely?
"Isn't She Lovely" is in AB form, but preceded by an intro section.
What tempo is Isn't She Lovely?
The original "Isn't She Lovely" from Stevie Wonder's 1976 Songs in the Key of Life has a tempo of 119 BPM.
When did Stevie Wonder write Isn't She Lovely?
Stevie Wonder wrote "Isn't She Lovely" in 1976 and it was first released on his Songs in the Key of Life that same year.