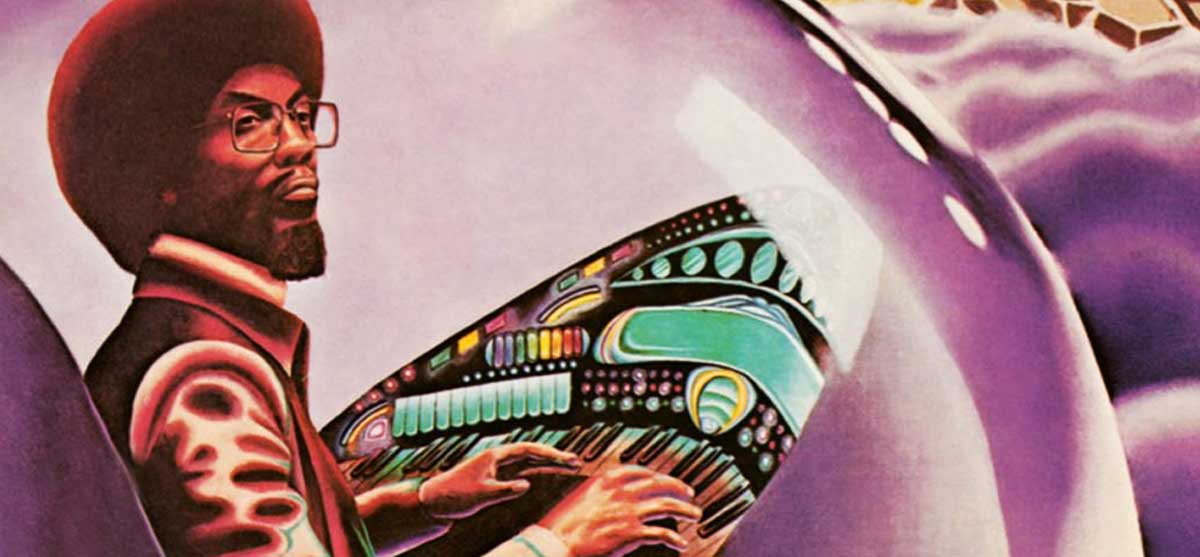 Herbie Hancock's mid-1970's period resulted in a trio of studio masterpieces, Headhunters, Thrust, and Man-Child. Thrust was released in 1974 as a follow-up to the much-admired Headhunters, with Mike Clark on drums instead of Harvey Mason but otherwise the same band.
The album is in the same vein as Headhunters and, like Headhunters, consists of four long-ish songs. All four of these tunes stuck around in Herbie's repertoire, but "Butterfly" has probably gotten the most cover treatment. I'll look at a few of these different versions in this column.
Also, check out our list of the 9 Best Jazz Clubs in NYC!
Herbie Hancock's "Butterfly", Thrust (1974)
On the Thrust album version of "Butterfly," the tune starts with a slow burn from the Rhodes, bass, drums, and percussion, before a (synthesizer) string swell at about 0:10 brings in the minimal melody from what sounds like Maupin's multi-tracked sax and bass clarinet (?).
The band grooves along in a very laid-back mode with Herbie's synthesizer swells and Maupin's melodies over the minimal drum-and-percussion groove. Around 2:10 or so the band moves into a solo from Maupin, though I think this tune lends itself more to the word jam than solo; it's all about Paul Jackson's bassline through this section.
Maupin's solo picks up some steam around 3:30, though this tune's determined to stay in a real laid-back groove… Around 4:20 a synth swell brings things back down to a low simmer and Herbie's Rhodes solo starts after that.
Nice synth accompaniment (I assume this was studio multi-tracking) starting at about 5:10 over Herbie's great Rhodes sound and the still grooving drums, bass, and percussion.
At about 6:10, there's a synth buildup, and then at about 7:00, Herbie's clavinet adds some texture and Mike Clark moves into double-time drums, really changing the feel here. Bill Summers' percussion behind the jam here makes for some nice rhythmic texture in the background.
More big synth swells around 8:20 or 8:30… we calm back down by 8:40 or 8:45 to the slow burn that started this tune and the head returns around 9:10. The band grooves along, taking their time here; no one's about to push the tempo on this.
They continue through the head of the tune while Herbie adds synth swells and then bring it to a close. I know I used the phrase a couple of times in this paragraph already, but this is a real slow burner of a tune.
Lots of layers to unravel, and repeated listens keep uncovering new wrinkles of percussion and keyboards in particular, not to take anything away from Maupin.
Herbie Hancock's "Butterfly", Dis is da Drum (1994)
Herbie kept "Butterfly" in rotation after Thrust; it appeared on the live album Flood (there are lots of live versions of Herbie doing "Butterfly" out there with a little bit of searching) and again on 1978's Direct Step.
The last studio version of a Herbie Hancock-led band doing "Butterfly" that I can find is on his 1994 album Dis is da Drum, including Bill Summers on percussion and Hubert Laws on flute. I'll include this version here as a comparison with the version on Thrust from 20 years (!) earlier.
Released in 1994, at a time when hip-hop and electronic producers were going back and grabbing samples of Herbie's Rhodes playing from the 1970s, the first thing I'm struck by is the sound of these keyboards.
While the playing on Thrust is now 40 years old, it doesn't really sound outdated (sure, it sounds like it's from the 1970s, but there are plenty of bands in 2013 that are pushing for that sound); the sound on "Butterfly" from Dis is da Drum… we'll just wait and see, I suppose – maybe bands in 2033 will be working to get this sound.
This version starts with Herbie's keyboard and bass, then some minimal percussion comes in and a flute plays the melody on this version. A very 1994-sounding drum break comes in at about 1:10 and some clav (?) and synths groove along with it before that break drops out at about 1:30 and the tune drops back into minimal percussion, keyboard, and flute.
Odd little keyboard riff just before 2:00… drum break returns around 2:30 for a keyboard/flute jam. This is section is enjoyable for what it is, but seems disconnected from "Butterfly."
At about 3:45, we get a Herbie keyboard solo… I would have dated these keyboard sounds to somewhere in the 1980's… The melody returns from the flute around 4:45 or so and they play through the head with some synth flourishes, ending with unaccompanied flute for a bit.
Whereas the band on Thrust took "Butterfly" at a slow tempo and stayed very much in the groove, this version seems not to have decided on anything in particular – there's some slow-burn groove, some keyboard solos, some flute solos, a drumbreak here and there… the song never really settled in.
Herbie Hancock's "Butterfly", Flood (1975)
I hate to leave Herbie on that note… here's his live version from Flood (Editor's note: and my personal favorite version of this song, if not one of my favorite performance of anything ever). Same personnel as on Thrust plus Dewayne "Blackbyrd" McKnight on guitar. Nice hypnotic stuff in the middle section around 6:00 or so.
Norman Connors' "Butterfly", This is Your Life (1977)
In 1977 (post-Thrust, pre-Dis is da Drum), Norman Connors released This is Your Life, containing his version of "Butterfly" with lyrics. This version starts out at a slightly faster tempo and has very little introduction before the lyrics come in over the drums, percussion, bass, and Rhodes.
This is all punctuated by some big brass punches. Around 1:50 this moves into the jam session, with Eleanor Mills' wordless vocals taking the lead before a Rhodes solo around 2:25. Just before 3:00, there is a bassline that I'm sure I've heard in a live version from Herbie and they settle into a nice groove here for a brief trumpet solo.
A bit of a Latin feel around 4:15 before the vocals return around 4:25… "Touch my mind," a brass punch, and we're out. Instrumentally this version has a lot in common with the original on Thrust, though with less of that slow burn, patient groove because of the faster tempo.
They keep the song moving along by taking a bunch of brief solos (vocal, Rhodes, and trumpet) in the middle section. The lyrics were clearly influential, as they've shown up a number of times since…
Gretchen Parlato's "Butterfly", Live Concert at Jazz Open Stuttgart (2010)
Gretchen Parlato has included her band's version of "Butterfly" on her In a Dream album, but I'll focus here on a live version from 2010 with Taylor Eigsti on keyboards, Alan Hampton on bass, and Mark Guiliana on drums in addition to Parlato's vocals and hand clap percussion.
This version starts with Parlato singing the "Butterfly" melody over her hand claps before her band joins her. The lyrics from Connors' version above start at about 0:30. It's notable maybe that Eigsti doesn't play Herbie's keyboard line, leaving that to Parlato's vocals.
Starting around 1:10, Hampton's bass moves up in the mix a bit to good effect… Eigsti moves between the acoustic piano and the Rhodes, combining the two sounds nicely.
A piano solo starts around 2:25 or so over a nice relaxed bassline… wow, Eigsti sounds great in here, a nice line just before 3:00 and throughout this solo. Big fat bass tones from Alan Hampton aren't hurting anything either…
Parlato comes back around 3:50 with the "Butterfly" melody, then the lyrics, repeating a few phrases to make sort of a chorus and ending the song differently than on Connors' version above.
This band sounds great behind Parlato, and Eigsti's piano solo deserves your ears on this. This is a cool arrangement of the tune, keeping the melody intact but with a very different feel from on the version from Thrust or from Norman Connors' version with these lyrics.
Robert Glasper's "Butterfly", Double Booked (2009)
Another artist doing "Butterfly" with lyrics is Robert Glasper. On his Double Booked album, he does "Butterfly" with The Experiment of Derrick Hodge on bass, Chris Dave on drums, and Casey Benjamin on sax and vocoder.
This version starts with a knocking drumbreak and single-note Rhodes vamp from Glasper while Hodge's bass thumps underneath. At about 0:30, Benjamin's electronic-sounding vocals come into the picture… just after 1:30, they move into something that sounds a bit more like Hancock's original with Connors' lyrics, then take that into some floating piano chords that Robert Glasper specializes in at about 1:50.
Check out the drum fill at about 2:05 or 2:10 from Chris Dave… a Glasper Rhodes solo starts around 2:50, sounding great in here with Dave's stuttering drums and a lot of low-end from Hodge. Just before 3:45, Benjamin's vocoder comes back in and the drums pick up steam. Great playing from Glasper through this whole section… they hit on another floating section around 4:40, then calm back down at about 4:50 or 4:55… vocals return around 5:10 along with Glasper's acoustic piano and they take this to the finish.
A very electronic-sounding version of "Butterfly" here, in particular Chris Dave's drums and Derrick Hodge's bass. Great Rhodes soloing from Glasper. I can't say I love the vocoder, but it works in this context. The opening vamp is interesting, a new section that isn't in any of the earlier versions that I've heard.
Conrad Herwig's "Butterfly", The Latin Side of Herbie Hancock (2010)
I'll close this by looking at a couple of instrumental versions, starting with one from Conrad Herwig. Herwig, on trombone, is joined by Eddie Palmieri and Bill O'Connell on pianos, Randy Brecker and Mike Rodriguez on trumpets, Craig Handy on bass clarinet, Ruben Rodriguez on bass, Pedro Martinez on percussion, and Robby Ameen on drums. (Conrad Herwig's group, with a similar lineup, has also been recorded at Newport 2010 doing "Butterfly" live)
This starts with the "Butterfly" riff on acoustic piano with the bass and drums before the percussion comes in, then the melody is played with some lush horns. A nice open drum/percussion break at around 0:35 or 0:40, then the tune moves along with very pretty piano…
Around 1:25 there are some more lush horn arrangements of the melody and another open drum/percussion break at about 1:45. Just before 2:30, a bass clarinet solo starts (appropriate given how Bennie Maupin, from the original version of this tune on Thrust, liked to use the bass clarinet – see Bitches Brew).
It's a great solo, but I'm also drawn to Ruben Rodriguez's bass accompaniment behind this – great stuff, the middle section of "Butterfly" really moves along on the strength of the bassline in these instrumental versions. The solo ends around 3:50 with a deep note and is followed by a trumpet solo. Similarly strong bass accompaniment here and a strong trumpet solo.
Another trumpet solo starts around 5:10 (it's not clear which solo is from Randy Brecker and which from Mike Rodriguez). The drums and piano pick up the intensity a bit during this solo, which ends at about 6:25 and is followed by a piano solo.
The head returns at 7:30 or so, played again with lush-sounding horns and some very pretty piano and funky drums and percussion breaks. This is a very good acoustic version of "Butterfly" with strong solos.
This version has some Latin-sounding percussion, but it's not all that different, really, from the percussion on the original from Thrust or from the live version on Flood – this tune lends itself nicely to the Latin treatment on this album.
Darryl Reeves' "Butterfly", The Herbie Sessions (2013)
The final version of "Butterfly" that I'll touch on is from saxophonist Darryl Reeves, from his live April 2013 performance, The Herbie Sessions. Reeves is joined here by Kenny Banks on keyboards, Joel Powell on bass, and Lil John Roberts on drums.
This version starts with Reeves' sax, and the other instruments come in short bursts. The "Butterfly" melody is not immediately apparent until the keyboard line around 0:50 or 0:55. Reeves' sax around 1:10 or so sounds great, I really like the fluttering effect he gives his tone through this opening section. Nice hi-hat drum fill around 2:20, moving into a sax solo.
Reeves sounds nice and relaxed in here, and I really like Powell's deep bass tones. Just before 4:00 the tune is fairly intense, very different from the chilled out start to this tune. This builds to a crescendo with Reeves' sax wailing over Roberts' drums, then Banks plays the "Butterfly" riff around 6:00 or so on the Rhodes and this chills waaaay back down with some nice thumping bass and Banks' keys until they fade out.
A very intense version of "Butterfly" led by Reeves on the sax, the whole band is on the accelerator throughout the tune, then calms it back down at a moment's notice. Great stuff.
Conclusion
Moving from the original instrumental version of "Butterfly" on Thrust to the many live versions of this tune on bootlegs and on Flood, to the later (and less intriguing) versions of this tune from Herbie Hancock, to the instrumental version of this tune on The Latin Side of Herbie Hancock and The Herbie Sessions, this tune has lots of room for great instrumental jazz improvisation.
The strongest versions (to my ears) have a hypnotic feel through the middle section, riding on the strength of the bassline (Herbie explored this feeling more on the follow-up to Thrust, Man-Child).
Norman Connors really changed this tune when he added lyrics, and Gretchen Parlato and Robert Glasper's later versions all started from that version and moved in their own directions.
A great tune from the incredibly prolific mid-1970's output of Herbie Hancock.
Also in this series
Dizzy Gillespie's "Con Alma"
Freddie Hubbards's "Red Clay"
Joe Henderson's "Black Narcissus"
John Coltrane's "Syeeda's Song Flute"
Miles Davis' "Nardis"
Ornette Coleman's "Lonely Woman"
Roy Ayers' "Everybody Loves the Sunshine"
Stanley Cowell's "Equipoise"
Stevie Wonder's "Isn't She Lovely"
Thelonious Monk's "Crepuscule with Nellie"
Wayne Shorter's "Fall"