It was an amazing year for jazz music. The genre is constantly evolving and pushing the limits of creativity. Jazz musicians have a real talent for drawing inspiration from other musical styles while always staying rooted in a century of tradition. New directions are emerging, new stars are rising, seasoned veterans are redefining their sound. It's such a blessing to be part of the discourse and we're deeply honored to promote this music we love so dearly. We've been writing about the latest in new and innovative types of jazz music for ten years now and artists still manage to blow our minds in the best possible of ways each and every year. I'd like to thank all of our staff, old and new with some celebrity cameos, who helped out with producing this list. In alphabetical order: Alexander Brown, Editor-in-Chief Anthony Dean-Harris, Matthew Kassel, Brian Kiwanuka, Maurits Meijers, Daniel Palmer, Rob Shepherd, and Morgan Talbot. We are a small staff with diverse musical tastes, which always makes up for a number of ties in our rankings, but I've come to appreciate the charm of it. And every year, it's always such blessing to see passionate music writers come together, exchange opinions, and form a consensus on the year's standout albums. Without further ado, here are Nextbop's Best Jazz Albums of 2019!
9. (tie) Jan Garbarek / The Hilliard Ensemble – Remember Me, My Dear (ECM)
In 1994, Norwegian saxophonist Jan Garbarek and early music vocalists from the Hilliard Ensemble released Officium, fusing jazz with Gregorian chant to produce an ethereal sound not previously heard elsewhere. Writer Marius Gabriel described it as "what Coltrane hears in heaven" and it remains one of ECM's finest. Remember Me, My Dear captures the same group, this time on the final tour before the Hilliard Ensemble's disbanding in 2014. Although hardly the only follow-up, it is the one closest to capturing the magic of the original. It is a fitting celebration of both Officium's 25th anniversary and the label's 50th. The otherworldly sonic qualities of this release are simultaneously ancient and contemporary, timely and timeless. -Rob Shepherd
Stream Jan Garbarek and The Hilliard Ensemble's "Dostoino est"
---
9. (tie) Tomeka Reid Quartet – Old New (Cuneiform)
Although this quartet's rhythm section, which consists of Tomas Fujiwara (drums) and Jason Roebke (bass), is consistently strong, the main attraction is an exhilarating combination of strings. Cello and guitar are not typical partners in jazz, but it would be hard to find two players more up to the task than Tomeka Reid (cello) and Mary Halvorson (guitar). The clash and synergy between Halvorson's warped eccentric approach and the harsh wooden sound of Reid's cello is fascinating. The album wastes no time, with opener "Old New" being one of its best tracks. Featuring an extended battle between Reid and Halvorson that is full of wildly unpredictable improvisation, the tune is the perfect introduction to the band. The Tomeka Reid Quartet's 2015 debut was a standout record of its year and Old New maintains that high standard. These are captivating Reid compositions that interestingly combine abrasive avant-garde improvisational styles and thematic passages that could fit in in more straight-ahead sessions. -Brian Kiwanuka
Stream the Tomeka Reid Quartet's Old New album
---
9. (tie) Matana Roberts – COIN COIN Chapter Four: Memphis (Constellation)
Folk music in its strictest sense is the traditional works of a people in a given country or region. This definition does not easily apply to the United States, a nation in which many cultures maintain their core while also acquiring concepts from other traditions. Instead, a true American folk musician should amalgamate various influences. Viewed properly, "sound quilter"/woodwind player/vocalist Matana Roberts is the quintessential American folk musician. As on the preceding three Coin Coin volumes, Memphis weaves various threads of other American music – spirituals, bluegrass, blues, spoken word, and jazz – to tell a cohesive story. In the process, she employs nontraditional jazz instrumentation including fiddle, accordion, electric guitar, oud, and jaw harp to craft music that is haunting, beautiful, and memorable. -Rob Shepherd
Stream Matana Roberts' COIN COIN Chapter Four: Memphis album
---
7. (tie) Kris Davis – Diatom Ribbons (Pyroclastic)
Those that only follow pianist Kris Davis' studio work might be surprised at the personnel of Diatom Ribbons. Although artists like Ches Smith (vibraphone) and Marc Ribot (guitar) are often found in the experimental scene Davis often occupies, Esperanza Spalding (vocals) and Terri Lyne Carrington (drums), both usually operate in more straight-ahead settings. However, a look at Davis' recent out of studio excursions gives the full picture – she played with both women in various stunning tributes to the late pianist Geri Allen. They are joined by Val Jeanty (turntable), Trevor Dunn (electric/acoustic bass), Tony Malaby (tenor sax), JD Allen (tenor sax) and Nels Cline (guitar). The guitarist stars in "Rhizomes", a track with an atmospheric opening that is eventually driven into rocking territory by Carrington and Cline, who has a stunning extended solo. "The Very Thing" is another standout moment – the combination of Spalding's gorgeous voice and Davis' beautiful cascading piano works wonders. There is an immediate accessibility in "The Very Thing" and other parts of Diatom Ribbons that may draw in those who were not too keen on Davis' past work. However, this is not to say that the pianist has held back or sacrificed her brilliance for the sake of immediacy – the strength of this album suggests exactly the opposite. -Brian Kiwanuka
Stream Kris Davis' Diatom Ribbons album
---
7. (tie) Kendrick Scott Oracle – A Wall Becomes a Bridge (Blue Note)
There are many ways to interpret the title of this 12-song cycle by drummer Kendrick Scott and his Oracle band, namely pianist Taylor Eigsti, guitarist Mike Moreno, woodwind player John Ellis, bassist Joe Sanders, and special guest turntablist DJ Jahi Sundance. One could interpret it as political commentary or also as Scott's overcoming of creative block in forming its pieces. While there is truth to both viewpoints, it is perhaps best seen as a crossing point between electronic music and acoustic jazz. Although the mixing of the two genres is a heavily treaded ground, such efforts generally lean more towards one direction or the other. A Wall Becomes a Bridge, by contrast, pulls from the history of both to find a new path across. The music is organic, profound, and powerful. -Rob Shepherd
Stream the Kendrick Scott Oracle's "Voices" featuring Derrick Hodge
---
5. (tie) Mark de Clive-Lowe – Heritage (Ropeadope)
Over the past decade, there have been two major trends in jazz. One has combined the music with more "popular" music, most notably electronic, hip hop, or R&B. The other has been to merge it with world music, particularly that of non-Western cultures. It is very rare for the two approaches to meet together with jazz in a unified work. With Heritage, Mark de Clive-Lowe obliterates this imaginary divide. The New Zealand based pianist/composer/producer utilizes his background as an electronic and jazz musician and the traditional music of his mother's homeland, Japan, to develop a gorgeous two album masterpiece. The synthesis of such diverse styles at the hands of the wrong artist could result in a muddled mess. Instead, with assistance from woodwind players Josh Johnson and Teodross Avery, bassist Brandon Eugene Owens, and percussionists Carlos Nino and Brandon Combs, de Clive Lowe's music is personal and touching. Despite its name, Heritage is not solely focused on the past. It is a deep exploration of not just where the artist comes from, but also who he is. Sincere, heartfelt, and joyous, Heritage sends a clear message that although our background influences who we are, it does not define us. -Rob Shepherd
Stream Mark de Clive-Lowe's Heritage
Stream Mark de Clive-Lowe's Heritage II
---
5. (tie) Joel Ross – KingMaker (Blue Note)
Vibraphonist Joel Ross simply has to be the hottest thing in jazz music right now. His name just keeps dropping right and left with everyone from Makaya McCraven to Marquis Hill by way of James Francies, Harish Raghavan, Kassa Overall, Walter Smith III, Matthew Stevens, and so many others trying to get a piece of the young phenom. As if that wasn't enough, the 23-year-old landed a record deal with the legendary Blue Note label to release his debut album KingMaker this year. Exuding maturity beyond his years, vast technical prowess, an ear for tradition and an eye for innovation, the young Ross is simply astonishing and KingMaker is nothing short of a home run on the game's very first pitch for a rookie with a very long career ahead of him. Joel Ross is well on his way to becoming his generation's next jazz superstar if there is such a thing. We can't wait to see what he does with his opportunity and in what direction he'll be taking the genre. -Sebastien Helary
Watch the video for Joel Ross' "Yana"
---
4. Nérija – Blume (Domino)
Nérija's Blume is the latest proof that London just may be the most fertile environment for modern jazz in the world. Nérija masterfully weaves early Blue Note era-inspired horn section lines with complex dance rhythms and newcomer Shirley Tetteh's absolutely stunning guitar work. This is an album that will entice you to get on the dance floor but also pushes a surprising emotional depth. One that is incredibly intelligent while also reminding you how much fun really well-executed funk can be when done right. One that puts equal emphasis on both groove and appropriate dissonance. The fact that this is their debut album makes Blume all the more exciting. -Daniel Palmer
Stream Nérija's Blume album
---
3. Fabian Almazan – This Land Abounds With Life (Biophilia)
Pianist Fabian Almazan is undoubtedly one of the most talented musicians and composers on the NYC jazz scene right now. But Almazan is also so much more, delving head-on into environmentally-responsible entrepreneurship with the creation of his very own Biophilia Records. Since its creation in 2011, the label has been growing at a furious pace and has been attracting some very exciting artists to its ranks. This Land Abounds With Life sees Almazan exploring the trio format alongside bassist Linda May Han Oh and drummer Henry Cole. The album is simply immaculate, both inspired and novel, pushing the music in new directions, drawing upon Almazan's Cuban heritage in a very earnest and honest way, all the while remaining one of the finest modern jazz trio outing in recent memory. This Land Abounds With Life unquestionably deserves to crack our top three. -Sebastien Helary
Stream Fabian Almazan's This Land Abounds With Life album
---
2. Portico Quartet – Memory Streams (Gondwana)
The baddest hang in the game is back for certain this time with the Portico Quartet going full circle in their sound while still keeping the post-rock attributes they've picked up along the way. So much of this album sounds akin to the group's early work, of 2009's Isla or 2012's self-titled release. However, this isn't merely a revisiting of that sound, it's still tempered with the group's years of experience and change. The electronic influences that they have built up over time are still quite present, molding their amalgam vibe. While those precision builds in the compositions are there, so also is Jack Wyllie's saxophone giving all the right phrases to let you know this is still improvised, this is very much living music. Remember everything you felt about the refreshing surprise Portico Quartet was a decade a go and add the seasoning of time, of new experiences and new influences affecting how we as people grow and change. Somehow, this group has gone around the bend and come back again, wisened, but still very much them. It's good to have them back. -Anthony Dean-Harris
Stream Portico Quartet's Memory Streams album
---
1. Linda May Han Oh – Aventurine (Biophilia)
Take everything about the nature of Linda May Han Oh's ability to produce straight bangers and add strings. She's awesome on the bass, but there's something about the sense of bounce and balance in her songwriting that makes her music so constantly infectious. Including the loftiness of strings would only elevate that feeling. These bangers are highfalutin', and they are in every sense of the word, some of the most inspiring jazz music we have heard this year. With this, Oh becomes only the second musician, alongside drummer Makaya McCraven, to receive Nextbop's Best Album of the Year award twice, the first time being for 2017's Walk Against Wind. Congratulations. -Anthony Dean-Harris
Stream Linda May Han Oh's Aventurine album
Honorable Mentions
The Comet is Coming – Trust in the Lifeforce of the Deep Mystery (Impusle!)
Brad Mehldau – Finding Gabriel (Nonesuch)
Resavoir – Resavoir (International Anthem)
Tomas Fujiwara – 7 Poets Trio (Rogueart)
The Bad Plus – Activate Infinity (Edition)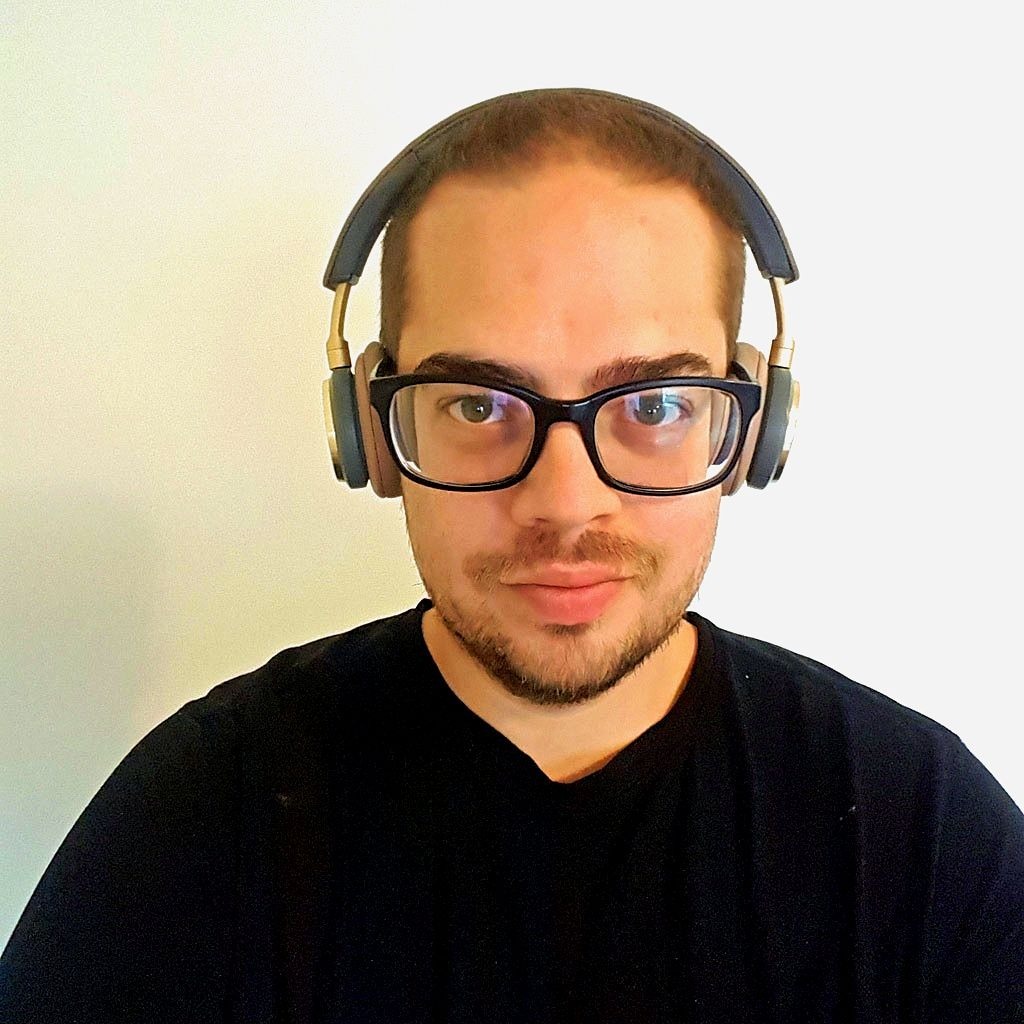 Sébastien Hélary co-founded Nextbop in 2009 with the objective of introducing modern jazz music to a younger generation of fans. Aside from music, his other main obsession is food, particularly ramen and other Japanese delicacies.