I had a discussion with some folks at KRTU about the importance of year-end lists as moments of assessment, of looking at this moment in time in a century-year-old genre of music and say this is where the music was at this point of the narrative. At a time where we're analyzing the culture at large at a rate as fast as the lives we're living in it, it's sometimes necessary to sit down and make a list, as internet-y as that may be. So here I am, one voice of many in this art form we call jazz, looking at what I considered the high points of this year and how they all fit in the history we make everyday.
10. Thundercat – Apocalypse (Brainfeeder)
I've had mixed feelings for this album all year. Yes, it's the natural successor to 2011's The Golden Age of Apocalypse in that it further melds jazz, funk, R&B, and psychedelic sounds into something more palatable and accessible to a wider audience than before (though who in their right mind couldn't have fallen head over heels in love with TGAoA?). Yes, it's an album that is tonally steeped in somberness after the loss of Austin Peralta last year but still has vibrant streaks of joy in songs like "Oh Sheit, It's X" and "Lotus and the Jondy" or playing the aptly named "Seven" in 7/4 time and not making it feel like some sort of intellectual exercise. However, as much as I kept thinking "sure, this is a pretty good album, but is it one of the best of the year?" I couldn't deny it as I kept returning to the well time after time in plays on my commutes, talks with friends, and spins on my show. It really is one of the better albums of the year because no matter how it may have made me feel as a whole — a little despondent about what it could have been — it's still an album of track after track of straight burners that I'll still likely keep in regular rotation for years to come.
9. Gerald Clayton – A Life Forum (Concord Jazz)
This album has staying power. Pianist Gerald Clayton in his Concord Jazz debut album had a mind to expand his sound to include more than his standard trio of bassist Joe Sanders and drummer Justin Brown. With Kneebody's Ben Wendel overseeing production, Clayton melds Dayna Stephens and Logan Richardson's saxophones, Ambrose Akinmusire's trumpet, and Gretchen Parlato, Sachal Vasandani & Carl Hancock Rux's vocals into a collection of songs larger in scope and just as enjoyable. As Clayton continues to stretch out as an artist and composer, his career continues to flourish and his albums just keep getting better and better, and with this one, Clayton has the Grammy nomination to prove it.
8.
Etienne Charles – Creole Soul (Culture Shock Music)
Trumpeter Etienne Charles' release this year was a pure shock to me, one of those albums that your friends have been talking abaout for a little while but you didn't pay them any mind for a while because you were off doing your own thing and listening to other stuff, but then you're hanging out somewhere and it's on and you're vibing to it… hard. Everything flows about it so well– the ideas of a soulful, cool R&B vibe with just a touch of the Caribbean. Kris Bowers on keys downright astounding. Ben Williams on bass is holding it down with expected levels of unexpectedness. It the kind of album where if you heard it in a room, you'd stop what you're doing and ask "who is this?!" And you'd remember the answer when you got home.
[arve url="//www.youtube.com/embed/83gUTq_qtTc"/]
7.
Kendrick Scott Oracle – Conviction (Concord Jazz)
The penultimate track of drummer Kendrick Scott's album begins with a clip of Bruce Lee explaining the proper frame of mind to practice Jeet Kune Do; it would make pure sense that this track is called "Be Water"– likely the proper frame of mind Scott's band, Oracle, had as they made this very fluid album. The flow of the first three tracks of this album from Scott's invocation at the start of "Pendulum" to an inspired version of Sufjan Stevens' "Too Much" sung by the always welcome Alan Hampton to a particularly swinging version of Herbie Hancock's "I Have A Dream" cemented Conviction on my list from jump, but the perfect mix of everything else kept it perched there to ride the year out.
6.
Albert "Tootie" Heath – Tootie's Tempo (Sunnyside)
Sometimes, one of the most beautiful things ever is witnessing an artisan perfectly in sync with his or her craft, when all cylinders are firing and all involved can tell. There had to have been magic in the studio those days in 2012 when pianist Ethan Iverson and bassist Ben Street linked up with the legendary drummer Albert "Tootie" Heath to create Tootie's Tempo. This isn't just an album where everything old is new again. This trio's take on standards like Eric Dolphy's "Fire Waltz" (betcha can't play it just once), James P. Johnson's "The Charleston", and Lalo Schifrin's "Danube Incident" are just saturated with pure joy. Heath's vibe on the drums has all the gravitas of an elder statesman of his stature but do statesman smile this much? Can a swinging drum beat sound like a smile? What I'm saying is Tootie's Tempo is so fun a listen, it might just induce synesthesia.
5.
Wayne Shorter Quartet – Without a Net (Blue Note)
It's nigh-impossible to talk about this album without mentioning the famous "Oh, my God!" moment about 7:17 into the epic, 23 minute "Pegasus" with the quintet Imani Winds backing the Wayne Shorter Quartet in complete astonishment. It's a moment that perfectly captures every great thing about what Without a Net incites in the listener. Shorter strips away from old compositions, leaving a hint of what was before, leaving he, drummer Brian Blade, bassist John Patitucci, and pianist Danilo Pérez plenty of space to fill with staggered tones. No other album this year better lives up to that common credo that it's not just the notes they play but also the ones they don't play. This isn't an album, it's an atmosphere. It's an ecosystem filled with bustling traffic and windy deserts and rivers and streams and meadows at dusk. It's a contentious album, as many this year have spoken as lauditorily of it as those who have lambasted it, but it's altogether amazing and thought provoking. That can't be denied.
4.
Now Vs Now – Earth Analog (Now vs Now Productions)
When Jason Lindner's Now Vs Now came onto the scene a couple years ago, some new, inspired sound seemed to have emerged from the ether. Under the guiding hand of Me'Shell Ndegeocello's production, Now Vs Now's 2009 debut had cool to spare and left the world wanting more… for four years. Now, in a fourth quarter of the year release, Lindner on keys, Panagiotis Andreou on bass, and the Jersey monster Mark Guiliana on drums came out in the clutch with Earth Analog, an album that never loses its sense of groove and what made the first album so noteworthy. These songs are head-noddingly brilliant, the turn in "Future Favela" is too clever, the beat in "Veneno" is too clever. It's an outstanding release that's a blessing to the world. My life is markedly better now that I have it. This album is that good.
3.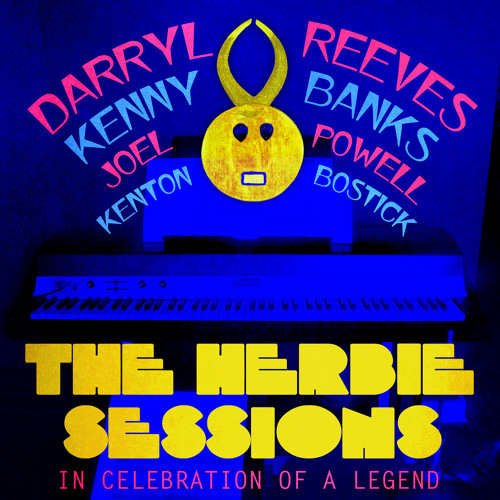 Darryl Reeves – The Herbie Sessions (Live 4.5.2013) (Self Released)
It's been 40 years since Herbie Hancock released Head Hunters and left an indelible mark on the jazz landscape (and confusing the hell out of folks looking through liner notes, trying to discover seemingly every sub-Saharan African musical instrument ever invented). As Hancock made the definitive turning point album of jazz, scores of musicians have looked back at this work in amazement and every now and then with the bolt of courage necessary to make this work their own. However, the finest version of these tunes in quite some time not from the genuine article had to have come from a quartet playing a gig in a little cafe in an artsy neighborhood in Atlanta one spring evening this year. Alto saxophonist Darryl Reeves has had a pretty great last couple years, steadily rising in accolades and fresh off the release of his own album, Mercury last year which exemplified his voice which perfectly melds jazz and R&B tones. It's a sound that typifies the Atlanta jazz scene and the perfect framework for Hancock's tunes. Reeves' arrangements have a smooth, pop, accessible, but very heavy tack to them, turning Hancock's songs over and over, wrenching every bit of amazingness from them as only truly great live sessions can. Reeves, keyboardist Kenny Banks, bassist Joel Powell, and drummer Kenton Bostick really clicked that night in Atlanta's Midtown and this recording captured lightning in a bottle.
2.
Terence Blanchard – Magnetic (Blue Note)
Kendrick Scott ends up on my list twice this year and with good reason. His own release, Conviction, with his group Oracle is a fluid piece of masterwork. However, he truly threw down in the cornucopia that is trumpeter Terence Blanchard's latest release, particularly with this assembled band. The cross-generational assembly model is no new thing in jazz, of course, and it's certainly a model that works here with bells on. Blanchard is sharp as ever and truly a marvel to behold here. Time and again, Fabian Almazan draws your attention to why he needs to be everywhere all the time in everything. However, it's the fact that this is an album in which everyone in the central quintet (also including Brice Winston on tenor sax & Joshua Crumby on bass) brought compositions to contribute that makes this work rise above. The central core of Almazan's jangly "Pet Step Sitter's Theme Song" featuring Lionel Loueke, Blanchard haunting "Hallucinations", and Scott's exhibition of rat-a-tat dexterity of "No Borders Just Horizons" is some of the best studio work in jazz this year. Here's hoping we get a few more outstanding albums out of Blanchard with this particular group. If they're this great together, truly together like this, for a while, Lord knows what we can expect.
1.
Butcher Brown – a & b-sides (Self Released)
If there was a group that seemed to arise inexplicably from a cloud of smoke this year, it would be Richmond, Virginia's Butcher Brown. Of course, the group consisting of drummer Corey Fonville (Christian Scott [aTunde Adjuah] Quintet, the ever-contentious Nicholas Payton), the multi-talented instrumentalist Devonne Harris on keys, guitarist Keith Askey, and bassist Andrew Randazzo didn't truly come from nowhere. Based on the strength of their releases this year (including the just dropped Backtracks LP), these dudes seemed to have been laying in wait, honing their fuzzy, funky sound for just the perfectly chill moment. However, if they were just looking to make a splash with their dual EPs, A-Sides and B-Sides, they overshot the mark a tad, ultimately releasing the best joint album this year. You've heard me say it all before– they're like if Madlib's Yesterday's New Quintet sprouted four more heads, they're like a jam session in a cloud, they're almost too cool. All these praises apply and more.
[arve url="//www.youtube.com/embed/coVHOFPlI-0″/]
Honorable Mention
Ahmad Jamal – Saturday Morning
Gregory Porter – Liquid Spirit
Eric Telford – Magnetic
Linda Oh – Sun Pictures
Gretchen Parlato – Live in NYC
Gilad Hekselman – This Just In
Tigran – Shadow Theater
Stephan Crump's Rosetta Trio – Thwirl